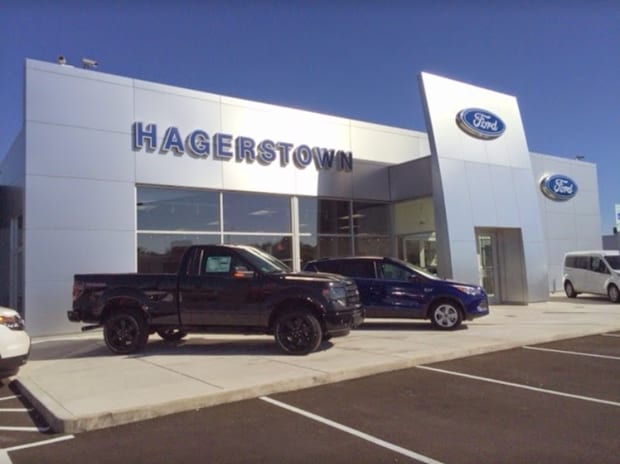 There are A LOT of ways to buy a car in 2022. Beyond just dealerships, shoppers can also utilize car-buying apps, digital marketplaces, auction sites, and even social media groups.
Let's take a look at the key differences between buying your new Ford through a dealership versus using an online platform, and why a dealership could be the better option for you.
Buying a Car Online Means Trading Control for Convenience
There are a lot of obvious advantages to buying a car online. First and foremost, you don't even need to put on pants.
Jokes aside, the fact that it's possible to purchase a car, sort out financing, and complete vehicle registration entirely from your couch is incredibly tempting. However, while the process is significantly more comfortable than visiting a dealership, it also means surrendering some of the benefits you get from purchasing a car through an actual person.
For starters, you've got limited options for exploring other vehicles beyond the first pick on your list. Sure, you can browse your dealership's full inventory, but a lot more goes into owning a car than just its list of specifications and features. It's also entirely possible the car you're ordering isn't a good fit for you—something you're most likely to discover after having it dropped off on your driveway.
Any skilled representative at a dealership will be able to walk you through the ins-and-outs of different car models. When you shop online, you lose a lot of that benefit. Shopping online means you're also unlikely to get the full range of incentives or discounts that a car qualifies for.
Visiting a Dealership Takes More Effort, But It's Worth It
We get it: visiting a dealership is a time-and-energy commitment, especially when compared to the ease of ordering online. There are a ton of benefits you get from visiting a dealership that can greatly impact both what model you purchase and how much you pay for it.
The central benefit of visiting a dealership is the fact that you'll be interacting with an actual person. Your sales representative's goal is to send you home in one of the dealership's cars after all, and this means they're prepared to work with you.
Your Ford sales representative will be able to walk you through all of the unique features of your new Ford truck or car, complete with a test drive! Expect a better conversation about financing options too.
As we noted above, reading about a car and driving it are two very different things. In fact, the best possible model for your lifestyle might be something completely different from your intended car! That's a valuable conversation to have with your dealership, and one that's best conducted with a qualified Ford representative to walk you through your options.
Although it's a much smaller benefit than the other ones on this list, dealerships tend to have surprisingly good coffee too. Even if you don't drive off the lot in your dream Ford, you'll at least leave warm and caffeinated! (That sounds pretty good to us!)
If you want to learn the full difference a dealership makes for buying a new Ford car, then visit Hagerstown Ford today.
There's a reason why Hagerstown Ford is your go-to resource for all-things Ford in Hagerstown, Waynesboro, Martinsburg, Chambersburg, Frederick, Winchester, and Mount Airy. Our inventory of new and used Ford models offers a great selection at affordable prices! With competitive financing and some amazing incentives, we'll make sure you drive off the lot in your dream Ford truck!