Ford's Fiercest Car Is Back!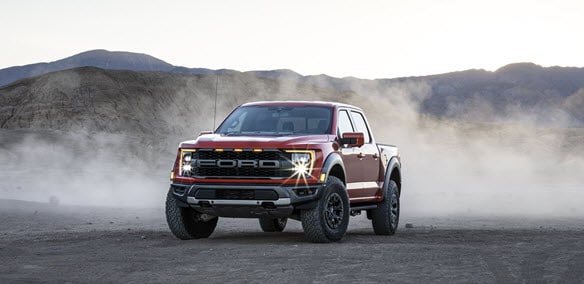 For any other car manufacturer, a vehicle as mighty as the F-150 would be considered something of an endgame: a final engineering test after decades of working on high-performance trucks and SUVs. Between their size and power, each generation of the F-150 has constantly pushed the limits of what a consumer truck can accomplish.
When you look at it like that, it's also not hard to see why the F-150 is America's favorite car, consistently outselling virtually every other vehicle on the market, year after year.
Drivers who want to go beyond the 2022 Ford F-150's already-incredible performance have the perfect way to do so: the F-150's cutting-edge Raptor trim. In fact, the 2022 Ford F-150 Raptor isn't just Ford's beefiest car to come out this year—it's one of the strongest trucks ever made.
That's a bold claim, but it's hard to ignore the evidence, especially when it's waiting right underneath the hood.
Want to Guess What the F-150 Raptor's Horsepower Is?

Getting behind the wheel of a new F-150 Raptor will make you completely rethink what it means to own a "powerful" car. Even high-end models from other brands can't come close to touching the F-150 Raptor's horsepower, which clocks in at a fearsome 450-hp.
You read that correctly. Four hundred and fifty horses.
This 3.5-liter twin-turbo EcoBoost V-6 also has plenty of subtle optimizations that allow it to punch way above its weight class. You know, just in case that much power still doesn't feel like enough. An advanced 10-speed automatic transmission shackles the vehicle's power to all four wheels, and it's able to make small adjustments on the fly in order to ensure drivers are getting the maximum possible strength from their vehicle's contact with the road—even across uneven or slippery terrain!
Simply put, if you want to go big AND THEN go home, the 2022 Ford F-150 will get you there faster than anything else.
Now Guess the Towing Capacity

It probably won't surprise you to know the 2022 F-150 Raptor packs some serious torque. The F-150 Raptor packs a degree of torque that seems like it almost breaks the laws of physics. After all, this is a vehicle that tows more than 200 pounds above its predecessor, which is a truck that's already considered to be at the very top of the line.
You can see the F-150 Raptor's sheer power through two numbers: its towing capacity and maximum payload. The first number, how much the truck can reliably tow, measures around 8,200 pounds. Meanwhile, its maximum payload (which is a measure of much weight a truck can reliably carry in its bed), clocks in at an impressive 1,400 pounds.
On their own, these would be impressive numbers for an INDUSTRIAL vehicle. Combined, they elevate the F-150 Raptor to a level of performance that's otherwise unheard of.
Of course, these two bits of information about the F-150 JUST concern all of the muscle under the hood. There are plenty of other reasons to love this incredible, high-performance Ford pickup truck. So many, in fact, we don't have enough space to list them all out here! Swing by Hagerstown Ford today, schedule a test drive, and feel the F-150 Raptor's incredible power for yourself!