Meet the New Off-Road SUV That Has Drivers Talking!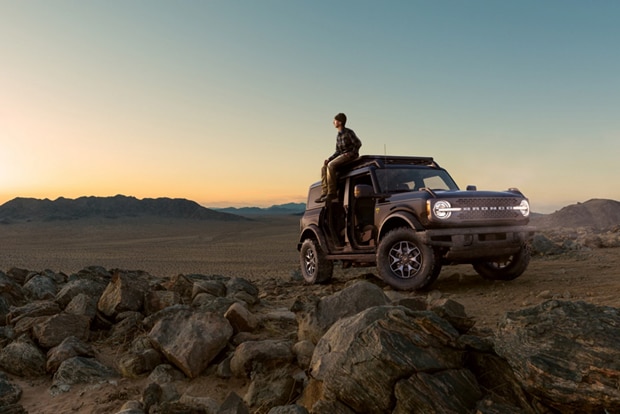 Details are still emerging about the 2022 Ford Bronco, but everything that we know so far is exciting!
The 2021 Ford Bronco has been turning heads and winning awards from the moment that it first drove off the assembly line, but it's already time to look towards the future. Drivers can expect the 2022 Ford Bronco to be a further enhanced version of the 2021's reworked design.
Simply put, this means that drivers can look forward to a lot of the engineering that makes the 2021 Ford Bronco so great, along with plenty of new features! The Ford Bronco has a long, proud tradition of being a vehicle with exceptional performance both on and off-road, and it shouldn't come as a surprise that the 2022 version more than lives up to this legacy. To that end, let's take a look at the three aspects of the upcoming 2022 Ford Bronco that have us most excited, starting with:
Amazing Performance (and All-Wheel Drive) Comes Standard
One of the first things that drivers will notice when sitting behind the wheel of a new 2022 Ford Bronco is the sheer power that the vehicle exudes. Every minute turn and press of the gas pedal allows drivers an expert control of the 300 horsepower produced by the vehicle's 2.3-liter four-cylinder engine–and the engine only gets more powerful at higher trims!
Additionally, drivers can look forward to a sophisticated 4-wheel drive that's included at every trim level! The torque produced by this system is no joke, and it easily places the Bronco at the top of its class in off-road performance. In fact, the standard trim is rated to tow 3,500 pounds, and you can feel that power when you use the Bronco to effortlessly mantle off-road trails that would be impossible to lesser SUVs.
It's Not Just the Engine, Every Aspect of the Ford Bronco Is Perfect for Off-Roading
When we say that this vehicle is just as powerful off-road as it is on freshly paved concrete, we're not joking. In fact, this vehicle might even be more powerful on uneven terrain than it is on normal concrete. Don't quote us on that, however–you'll just have to get behind the wheel of the Ford Bronco for yourself to find out.
In addition to the sheer power and torque produced by the Bronco's engine, countless other features on this SUV have been optimized for off-roading. This includes frameless doors that can be easily removed ahead of difficult treks, along with rubberized flooring and an optional upholstery made of marine-grade vinyl! There's even a rack built onto the top of the dashboard that allows for cell phones and GoPros–in case you want to show off your off-road adventures!
Affordable Pricing and Awesome Trims Mean Options for Everybody
In addition to everything we've just talked about, there's one more big thing for drivers to get excited about–the incredibly affordable cost to get behind the wheel of the 2022 Ford Bronco. The pricing on this vehicle means that it's significantly more affordable than most other SUVs on the market–despite being a mile ahead of other brands in features!
Drivers who are looking to spring for a higher-end model, however, will find plenty to be excited about in the 2022 Ford Bronco's higher trims. These trims are estimated to reach up to $60,000 in cost, although exact pricing may vary. At the very top of the line is the Ford Bronco Raptor, a next-generation SUV that's always ready for a race. With a turbocharged 2.7-liter EcoBoost V6 engine, this trim offers drivers a high-speed experience that's unlike any other.
If you want even more reasons to be excited about the upcoming 2022 Ford Bronco, then visit Hagerstown Ford today!
There's a reason why Hagerstown Ford is your go-to resource for all-things Ford in Hagerstown, Waynesboro, Martinsburg, Chambersburg, Frederick, Winchester, and Mount Airy. Our inventory of
new
and
used
Ford models offers a great selection at affordable prices! With competitive financing and some amazing incentives, we'll make sure that you drive off the lot in your dream Ford truck!