When it comes to snow driving, Ford's results won't surprise you.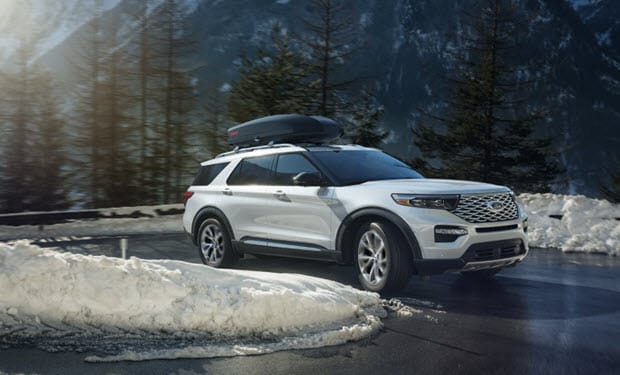 Okay, this one feels like it should be a no-brainer. After all, the answer to the question posed by this title is basically all of them. However, different Ford models come with a variety of different benefits and features, which means that they can be suited for different kinds of snow driving.
Given what winter can look like in Maryland–and the east coast in general–the amount of snow that you have to deal with can vary significantly depending on where you live. If you've ever been caught in an early October snowstorm in Garrett County, you'll know it's a whole lot different than dealing with late-spring snow out by the coast.
So, which Ford model is best for your brand of winter driving? Let's take a look.
Drivers who expect their winter driving to be more damp than frosty will find plenty of reasons to love the 2022 Ford Escape, a compact crossover that's well-equipped to tackle slippery roads. Both the combustion and hybrid options for this car come standard with a sophisticated all-wheel-drive system that's able to selectively disengage the rear driveline when it's not needed, reducing both drag and fuel consumption. In the event that the vehicle starts to slip, the Escape can automatically adjust the torque that each wheel receives in order to maximize handling and traction.
If you're planning a lot of driving on slick, slushy, or icy roads, then the 2022 Ford Edge is an excellent SUV. With an engine that can reliably produce 335 horsepower and an incredibly robust all-wheel-drive that comes standard on every trim, you'll never have to worry about losing control while driving. Features like hill-start assist, traction control, and four-wheel anti-lock brakes also come in useful on those particularly slushy days. As an added bonus, heated front seats mean that you won't have to shiver through your morning commute anymore, either!
Meanwhile, the 2022 Ford Explorer is an all-around good pick for drivers who are expecting to deal with a full mix of gentle drives and full-on snow days. The Explorer's intelligent Terrain Management System allows it to tackle a variety of different road conditions without any noticeable loss in handling or traction–as it features a snow mode that adjusts the torque on wheels in order to prevent the vehicle from sliding on slick surfaces!
In the event that you want to completely take the stress out of every kind of snow driving, the 2022 Ford F-150 is still the uncontested king of the road. This all-weather titan is America's best-selling truck for a reason: its ability to carve through massive snowdrifts and road-swallowing blizzards with ease. With up to 450 horsepower and a whopping 11,300 lbs. of towing capacity, you can completely take the hassle out of winter driving simply by getting behind the wheel of an F-150.
Of course, there are plenty of reasons to love new Ford trucks and SUVs beyond their engines and drivetrains. Between features like heated seats and remote start add-ons, having the right Ford is an easy way to completely destress your winter so that you can focus on enjoying the scenery while other drivers are panicking about the weather.
If you'd like even more reasons to get excited about Ford's 2022 lineup–or want to schedule a test drive for yourself–swing by Hagerstown Ford today!
There's a reason why Hagerstown Ford is your go-to resource for all-things Ford in Hagerstown, Waynesboro, Martinsburg, Chambersburg, Frederick, Winchester, and Mount Airy. Our inventory of new and used Ford models offers a great selection at affordable prices! With competitive financing and some amazing incentives, we'll make sure that you drive off the lot in your dream Ford truck!