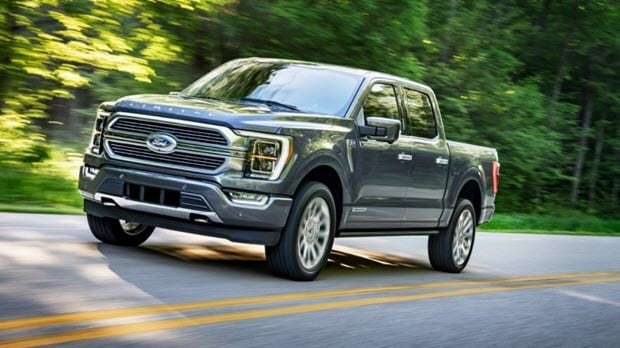 It's difficult to truly appreciate the sheer muscle behind Ford's innovative, driver-focused engineering until you're actually behind the wheel, especially when it's the new Ford F-150. Over the past century, Ford has been a central player in America's obsession with cars for a reason: its cars are awesome!
One major key to Ford's success is the power that's packed into every vehicle. Unlike some of its smaller, sportier competitors, Ford's strength isn't just limited to what it can pack underneath a vehicle's hood. Instead, every inch of a Ford vehicle is designed to carry some hardcore automotive power, which starts long before the vehicle's steel is even shaped.
Let's take a look at what sets Ford apart from the competition:
It All Starts With Military-Grade Steel
Ford isn't just uniquely American in its design, it's also uniquely American in the resources it uses to make its cars and trucks. Since Day 1, Ford has always prioritized using high-grade, pure steel instead of opting for cheaper alloys to cut costs (like most of its competition). We shouldn't have to over explain the benefits: this decision is what gives Ford cars their signature muscle, and it's why they seem to be endlessly more durable than their smaller, wimpier counterparts.
Many of the steel and aluminum alloys Ford uses are found in aerospace, commercial transportation, and industrial energy transmission—all of which are industries that require durability and grit in order to prevent catastrophic consequences.
It's Impossible Not to Mention the Engines
While all of the power that's packed away under Ford's hoods isn't its only differentiator, it's certainly an important and attractive one! It's no secret that the engines in Ford cars are veritable jet engines, but many drivers aren't aware of just how powerful they are.
If you want proof, look no further than the 2022 Ford F-150. Tucked under its hood is a class-exclusive 3.5L PowerBoost Full Hybrid V6 engine that produces a whopping 430 horsepower.
You read that correctly: 430. That's more than twice the strength of high-trim SUVs, and virtually none of those feature the F-150's whopping 12,700 lbs worth of towing capacity.
The numbers don't lie: new Ford trucks are light-years beyond the competition.
Top-Notch Testing and Service Comes With Countless Benefits
Durability extends to more than just performance on the road. It isn't only a measure of how beefy a vehicle's chassis is, but also a measure of how well the vehicle will continue to perform after being driven for tens (or hundreds!) of thousands of miles.
Ford takes the guesswork out of how much driving their vehicles can endure, literally. Every new Ford truck is subjected to unique torture-testing for thousands of hours at Ford's proving grounds in order to see how well it can hold up to the elements. As a result, you can shop new Ford cars knowing full well they're designed to stay on the road for a long, long time.
This quality also extends to Ford's vehicle service options. Getting Ford bodywork at a certified Ford dealership service center comes with a carefully tailored regime that's designed to get your Ford back on the road, and keep it there.
If you'd like to experience the cutting-edge muscle of Ford cars for yourself, swing by Hagerstown Ford today to schedule a test drive!
There's a reason why Hagerstown Ford is your go-to resource for all-things Ford in Hagerstown, Waynesboro, Martinsburg, Chambersburg, Frederick, Winchester, and Mount Airy. Our inventory of new and used Ford models offers a great selection at affordable prices! With competitive financing and some amazing incentives, we'll make sure you drive off the lot in your dream Ford truck!