Limitless Options, Limitless Power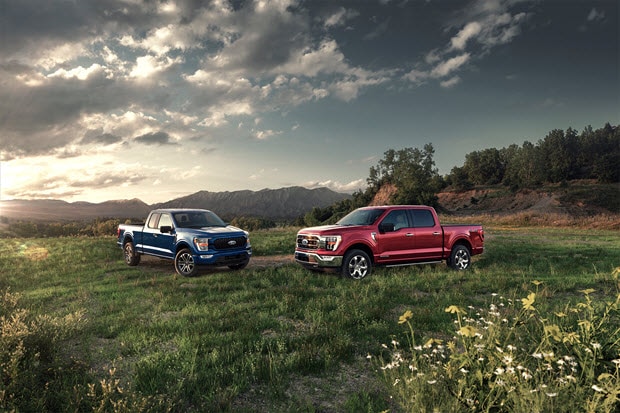 There's a reason that the Ford F-150 is America's best-selling truck. Since first driving off the assembly lines in 1948, the F-150 has constantly set the standards for what drivers should expect from a truck. The 2021 F-150 is no exception, delivering best-in-class performance, power, and towing capabilities.
When shopping for your F-150, you'll have several different trim levels to choose from. Each one comes with a suite of awesome performance upgrades and driver assistance features. To that end, here are some of our favorite upgrades across different Ford F-150 trims, starting with:
Starting at an XLT trim, drivers can use FordPass Connect to add mobile Wi-Fi hotspots to their F-150. Up to 10 devices can be supported at once, and the range of this hotspot extends up to 50 feet away from your truck! This hotspot doesn't just mean better internet connectivity, however, as drivers can also access a rotating selection of popular on-demand entertainment, which includes news, sports, family content, podcasts, and more!
Although opting for leather seating won't influence your vehicle's drive, it'll certainly change your driving experience. Ford's leather seats blend a certain frontier ruggedness with fine European tailoring, resulting in a cabin that's equal parts class and cowboy. You'll be able to feel the difference from the moment that you first sit down, and leaning into a heated leather seat while driving on a cold day is an experience so energizing that it's borderline spiritual. This seating is available starting at the Lariat trim.
Drivers who want to take the power of their Ford F-150 to the next level should opt for the optional 3.5L PowerBoost Full Hybrid V6 Engine. Don't let the machine's hybrid status fool you, this is one of the most powerful engines available on the commercial market today. By combining gas and electric energy, it can produce 430 horsepower with 570 lb-ft. of torque and a maximum towing capacity of 12,700 lbs. You read that correctly. This behemoth engine comes available on the F-150 King Ranch.
Higher-level trims, such as the Limited F-150 comes with a 360-degree view camera, which provides an unparalleled level of visibility and safety in crowded areas. Although the F-150 comes with exceptional handling, its size still means that it has to navigate a wide turning radius, and this camera takes any guesswork out of navigating tight spaces. F-150 drivers who anticipate a lot of city driving will immediately see the benefits of this upgrade, both in their driving and blood pressure.
Unique to the Raptor trim is a powerful Terrain Management System, which allows drivers to cycle through multiple driving modes in order to get the best possible performance on any given road. This system analyzes the F-150's driving patterns and makes subtle adjustments to its AWD and torque settings in order to ensure flawless traction on the road. In addition, the Raptor trim also features a Torque-on-Demand transfer case, which allows drivers to manually redistribute their vehicle's torque in order to further optimize its performance. The result is an F-150 with even more responsive handling–which makes the Ford F-150 Raptor one of the best-performing vehicles available ANYWHERE.
These upgrades only scratch the surface of the F-150's extensive range of awesome features. Every trim level features unique strengths and features, meaning that there's guaranteed to be a perfect trim for you. If you'd like to learn more, then visit Hagerstown Ford today!
There's a reason why Hagerstown Ford is your go-to resource for all things Ford in Hagerstown, Waynesboro, Martinsburg, Chambersburg, Frederick, Winchester, and Mount Airy. Our inventory of
new
and
used
Ford models offers a great selection at affordable prices! With competitive financing and some amazing incentives, we'll make sure that you drive off the lot in your dream Ford truck!